Thank y'all again for all of the support on starting my blog. I've got a long list of content ideas, and I'll be posting more regular basis once I develop a posting schedule. So be sure and subscribe… or just look for posts on my social media accounts which will announce new blog posts! 🙂
I knew that my first post had to be about the Keto Diet simply because I have had so many of you ask what it was and how to get started. That, and since I'm in the midst of the diet, I wanted to share all of what I've learned thus far.
I've had some questions about my go-to recipes, and here are some of my favorites! My goal is to continuously find new ones, and post information on how they turned out!
The majority of the recipes serve several people, so you can adjust based on how many people will be eating the dish!
Here's what's included in this post:
Breakfast
Pancakes – A classic staple
Bacon, Egg, and Cheese Roll-Ups – Cute and easy
Stuffed Breakfast Biscuits with Sausage and Cheese – You had me at 'stuffed'
Lunch/Snacks
Zucchini Pizza Bites – Once you pop, you can't stop
Low-Carb Chips – 2-ingredient goodness
Cheeseburger Salad – Sounds wrong, but it's so right
Dinner
Crock Pot Low-Carb Taco Soup – Bring on the sweater weather
10-Minute Shrimp Zucchini Pasta – Legit delish
Meatball Casserole – Who doesn't love a good casserole?
Pancakes!


Recipe from LowCarbSpark
1/4

cup

melted Butter

1/4

cup

softened cream cheese

1/4

cup

whipping cream

3

eggs

1/4

cup coconut flour

1/2

tsp vanilla extract

1/2

tsp cinnamon

1

tbsp sweetener

or more to taste (I use Truvia)

1

tsp baking powder

Optional: Sugar-free syrup (something's better than nothing, right?!)
In a medium mixing bowl combine the eggs, the melted butter, the heavy whipping cream, the cream cheese and the vanilla extract. Stir well for 2 minutes.

Combine the coconut flour, the sweetener, the baking powder, the cinnamon.

Use a fork to combine the wet and dry ingredients.

Heat a large non-stick skillet (or use griddle) over medium heat.

Spread the batter into 3-inch circles.

When bubbles start to appear on the top surface of the pancake, turn over.
Cook for 2 minutes on the other side or until lightly browned.
---
Bacon, Egg, and Cheese Roll-Ups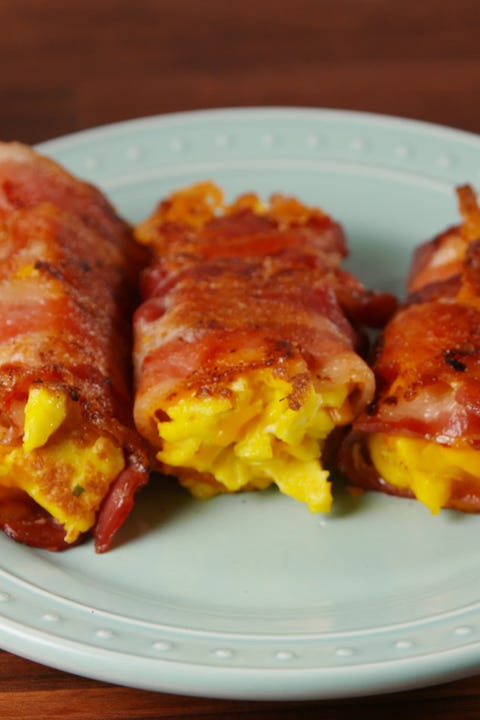 6

large eggs

1/2 Tbsp

milk

1/4 tsp

garlic powder

Kosher salt
Freshly ground black pepper
1 Tbsp

butter

1 Tbsp

chopped fresh chives

18

slices bacon

2 cups shredded Cheddar

In a large bowl, whisk together eggs, milk, and garlic powder and season with salt and pepper.
In a nonstick skillet over medium heat, melt butter. Add eggs and scramble, 3 minutes, then stir in chives.
On a cutting board, lay out three strips of bacon. Sprinkle the bottom third with cheddar and top with a large spoonful of scrambled eggs. Roll up tightly. Repeat with remaining cheese and eggs.
Return skillet to heat and add bacon roll-ups seam-side down. Cook until crispy on all sides, then transfer to a paper towel-lined plate to drain fat. Serve.
---

Stuffed Breakfast Biscuits

Recipe from How To This and That
Makes 6 stuffed keto breakfast biscuits
Ingredients
2 ounces cream cheese
2 cups mozzarella, shredded
2 eggs, beaten
1 cup almond flour
pinch salt & pepper
2 ounces colby jack cheese, thin cubes (or your choice of cheese)
6 breakfast sausage patties, pre-cooked
In a microwave safe bowl, add cream cheese and mozzarella.

Microwave for 30 seconds at a time until cream cheese is very soft and mozzarella starts to melt.

Mix well! And by mix well I mean, stir stir stir! You want this really combined.

In a small separate bowl, combine beaten egg and almond flour. Add cheese mixture and mix well, again, REALLY well.

Dough may be sticky, this is ok. Dust it with additional almond flour and form into a ball. Place on plastic wrap and refrigerate until firm.

Cut into sections to form 6 3″ balls, depending on the size of the sausage.

Flatten dough balls, place sausage on the dough, then cheese and wrap dough around.

Put the stuffed dough into a greased muffin tin.

Bake for 12-15 minutes or until golden and set. Top with more mozzarella if desired.
Note- You will have some dough leftover. Also, the amount of dough used by each person to wrap around the sausage will vary so much that I can only give an estimated nutrition count. Per stuffed biscuit- 2 net carbs
Zucchini Pizza Bites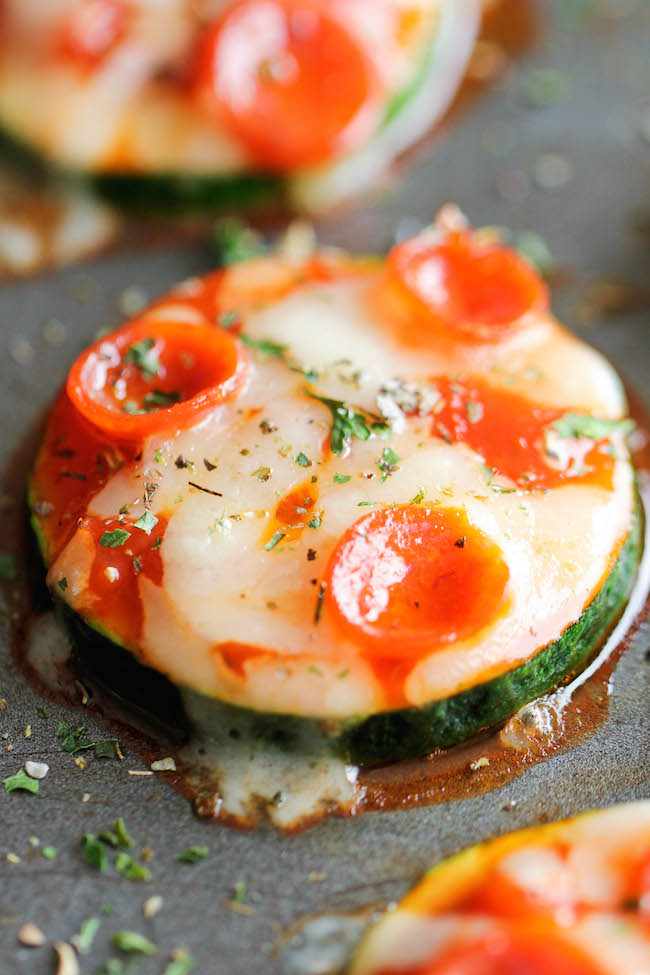 Recipe from Damn Delicious
1/4 cup mini pepperonis
2 – 3 zucchini
1/3 cup marinara sauce (I like Rao's – low carb!)
1 tbsp olive oil
1 tbsp Italian seasoning
1/2 cup Mozzerella
Kosher salt and pepper to taste
Preheat oven to broil.
Heat olive oil in a large skillet over medium high heat. Working in batches, add zucchini and cook, flipping once, until golden, about 1-2 minutes on each side; season with salt and pepper, to taste.
Place zucchini rounds onto a large baking sheet. Top each zucchini round with marinara, mozzarella and pepperoni minis.
Place into oven and cook until the cheese has melted, about 1-2 minutes.
Serve immediately, sprinkled with Italian seasoning, if desired.
---

Low-Carb Chips


Recipe from Listotic
4 egg whites
approximately 1/2 cup shredded cheddar cheese (or cheese of your choice)
seasoning to taste (optional)
Preheat oven to 400 degrees.
Grease a mini muffin pan REALLY well with vegetable or olive oil. You can also use Pam, but personally, I don't think it works as well.
Separate 4 egg whites and seasoning of choice into a bowl and whisk well. I just add a pinch of garlic salt and black pepper, and sometimes rosemary!
Spoon about 1/2 tablespoon of your egg white mixture into each muffin compartment (just until you have a very thin layer covering the bottom). The muffin pan I use has 24 slots, and I find that 3-4 egg whites fills them perfectly. Keep in mind, the thinner you cover the bottom, the crispier your chips will be. If you make it too thick, your chips will only be crispy on the rim, but still really tasty!
Top each one with a pinch of shredded cheddar cheese. When I'm done, I use a small spatula to make sure none of the cheese is touching the edges for easier clean up. The cheese tends to stick to the sides a bit. (The silicone muffin tins are much easier to clean…)
Bake for 10-20 minutes or until the edges have browned. Your baking time will depend on how thick your egg mixture is.
Use a small spatula to remove the chips from the pan. Eat immediately and enjoy!
---
Cheeseburger Salad

Recipe from Wholesome Yum
Salad
1

lb ground beef

1

tsp sea salt

1/4

tsp black pepper

8

oz

Romaine lettuce

(or iceberg if desired)

1

cup

Tomatoes

(chopped)

3/4

cup

Cheddar cheese

(shredded)

1/2

cup

Pickles

(diced)
Dressing (if you want something other than just good 'ol Hidden Valley Ranch!)
1/2

cup Mayo

2

tbsp

Pickles

(diced)

2

tsp Mustard

1

tsp White vinegar

1/2

tsp Smoked paprika

1 1/2

Tbsp

sweetener of your choice
Cook ground beef in a skillet over high heat. Season with sea salt and black pepper. Stir fry, breaking up the pieces with a spatula, for about 7-10 minutes until the beef is browned and moisture has evaporated.

Meanwhile, puree all the dressing ingredients in a blender. If dressing is thicker than you like, thin out with water or oil and puree again. Adjust sweetener to taste. Refrigerate until ready to serve.

Combine the remaining salad ingredients in a large bowl. Add the ground beef. Toss with dressing.
Hopefully the weather gets cool soon, and this easy-peasy soup can be waiting for you when you get home!
Crock Pot Low-Carb Taco Soup


Recipe from Beyer Beware
2

lbs

ground pork

beef or sausage

2, 8-

oz

packages of cream cheese

2, 10-

oz

cans of Rotel

2

Tablespoons

of taco seasonings

4

cups

of chicken broth

1-2

tablespoons

of Cilantro – fresh or dried

optional

1/2

cup

shredded cheese for garnish

optional
Brown ground meat

While meat is browning, place cream cheese, Rotel, and taco seasoning into crock pot.

Drain any grease off of meat and put meat in the crock pot. Stir to combine with cheese and Rotel.

Pour chicken broth over meat and cheese.

Cook on low for 4 hours or high for 2 hours.

Before serving, stir in cilantro.

Garnish with shredded cheese.
547 calories
33 g protein
43 g total fat
4 g carbohydrate
---

10-Minute Shrimp Zucchini Pasta

Recipe from Eat Well 101
1 pound (450g) raw medium shrimp, peeled and de-veined (can be switched out for chicken or any other protein)
4 medium zucchini
1 tablespoons olive oil
4 tablespoons softened butter
4 garlic cloves, finely chopped
1 teaspoon Italian seasoning
Pinch of red pepper flakes
Juice of 1/2 fresh lemon
1/4 cup chicken or vegetable stock
Hot sauce of your choice, to taste (Cholula would be delicious!)
Salt and fresh cracked pepper, to taste
1/4 cup chopped fresh parsley, for garnish
1. Wash and trim the ends of the zucchini. Make the zucchini pasta using a spiralizer or julienne peeler and set aside.
2. Heat 1 Tablespoon oil and 2 Tablespoons butter in a large skillet over medium-high heat. Add the shrimp in one layer and sprinkle with salt and pepper. Cook for one minute without stirring, so the bottom of the shrimps get slightly browned.
3. Add the chopped garlic, Italian seasoning, and red pepper flakes and then stir in the shrimp for another minute or two to cook the other side. Transfer the shrimp to a shallow plate.
4. In the same pan, add remaining butter, lemon juice, chicken or vegetable stock, and hot sauce to the pan. Bring the sauce to a simmer for 2-3 minutes, stirring regularly.
5. Stir in the zucchini noodles and cook until done, about 2 minutes, stirring regularly. Allow the sauce to reduce a bit if it's too watery. Add the grilled shrimp back to the pan and stir for another minute. Serve immediately with lemon slices, extra parsley, and pepper. Enjoy!
Note: Sometimes, zucchini tends to render some water while cooking, so you can sprinkle zucchini pasta with salt and let sit in a colander while you're cooking shrimp. Press with your hands to remove excess water; then rinse and drain thoroughly before adding to the pan.
You can't go wrong with any of these recipes found here: 15 Freezable Keto Meals
---

Meatball Casserole

Recipe from Joy Filled Eats
Meatballs:
1

lb

ground turkey

1

lb

Italian sausage

1

cup

shredded mozzarella

1/3

cup

grated or shredded parmesan

1

shredded zucchini

about 1 cup

1

egg

2

tsp

dried minced onion

2

tsp

dried minced garlic

2

tsp

dried basil

1

tsp

salt
Casserole:
1

cup,

no sugar added pasta sauce

8

oz

shredded cheese

(I used a two cheese pizza blend of mozzarella and provolone)
Preheat oven to 400. Spray a casserole dish with cooking spray

Combine all the ingredients for the meatballs and mix thoroughly. Make about 24 meatballs and put them in the casserole dish.

Bake for 30 minutes or until the meatballs are cooked through. Carefully drain the cooking liquid from the casserole dish.

Top with the sauce and cheese. Bake for an additional 10-15 minutes or until the cheese is melted.

Optional: I broiled for 3-4 minutes at the end to toast the cheese. Watch it carefully if you put it under the broiler. The cheese can burn easily.
Note:
You can use any type of ground meat (beef, pork, turkey, chicken) and any type of Italian sausage (pork, chicken, or turkey) in these meatballs.
You may also omit the zucchini, or sub in chopped spinach if you prefer.
---

Now, who's hungry?!
Let me know if you try one of these recipes – I want to know what you think!